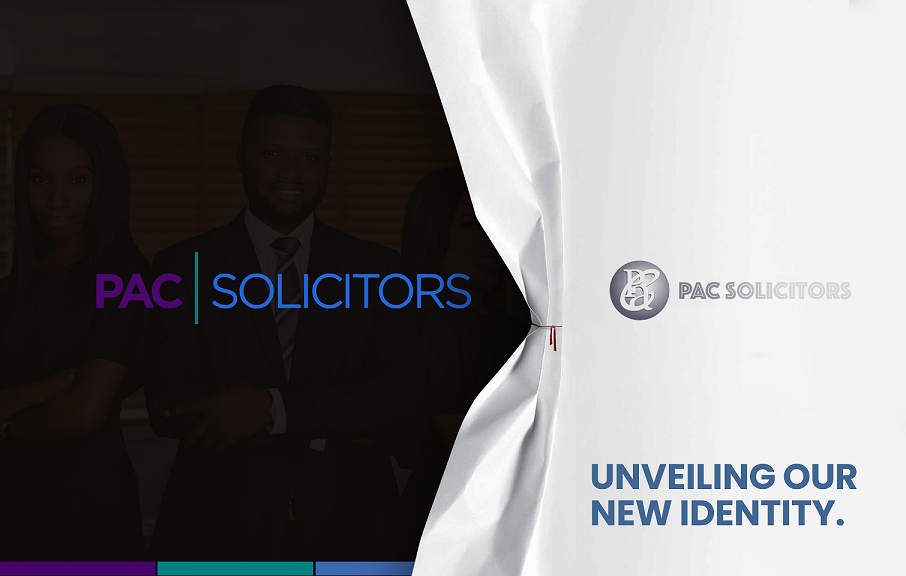 We are excited to announce that effective 1st April 2022, we have rebranded with a completely new look including a new logo, colour scheme and website! We would like to share the rationale behind the updates, and what they represent for PAC Solicitors.
Over the last 24 years, our firm has grown in leaps and bounds, evolving into to a full service corporate law firm. Several months ago, we reached a deliberate decision to update our brand to reflect who we are and symbolize the dynamic future ahead of us. We assessed, engaged, consulted, strategized and consequently, rebranded.
WHY DID WE REBRAND
We embarked on the rebrand journey to create a formidable brand identity that clearly reflects the firm's goals and values, distinguishes and differentiates us from the competition, helps the firm reach its delivery potential, and ultimately helps all of us connect with our clients and all with whom we do business.  We wanted a redesign of our overarching business strategy such that every person that encounters our brand would be able to identify the key values that typify our firm.
Today, we have rebranded and repositioned our firm as a timeless, innovative and resourceful firm that harnesses its unique strengths and resources in the service we deliver to our clients and in the achievement of our vision.
Much deeper than the new logo, colours and refreshed website is a burst of excitement, renewed enthusiasm and a reignited commitment to deliver excellent, world-class legal services to all our clients.
WHAT HAS CHANGED?
Logo
The new PAC Solicitors logo has been designed to reflect a modern, forward-thinking and innovative law firm. It was designed to be simple, timeless, relevant, distinctive, memorable and to ensure that clients can connect with our brand.
It is a modern design exemplified by sleek lines, simple lettering and bold colours.
Colours
Our colour provides a strong visual link to our brand identity across a wide range of applications. The consistent representation of these core colors helps us reinforce the distinctiveness of the PAC Solicitors brand.
Our primary/core colours are White, Purple, Teal and Blue.
White symbolizes purity and integrity. Purple depicts royalty, dignity, confidence and warmth. Teal Green symbolizes productivity, freshness and vitality. Blue is indicative of our depth and expertise, and the ability to reach far and wide.
Website
The new PAC Solicitors website has been carefully designed to infuse a modern, youthful, fresh and confident new look with bold colors. It builds on our vision of being a law firm of choice that delivers world-class value. It has a new layout and structure, improved and responsive visual design, user-friendly with relevant imagery
Mission Vision and Values
As a firm grows, its mission statement should be revised as required, to reflect the business's new ambition as previous goals and objectives are met. In the same vein, we redefined our mission and vision statements as well as our values.
Our Mission Statement will give our vision legs and traction, guided by our Values. It declares the purpose of our firm to our stakeholders, letting them know what the firm does, who it serves, why it exists, or what purpose it serves. Our values are the Beliefs and Principles that guide us as a firm.
Mission: To build a corporate law practice with excellent professionals, providing world-class legal solutions to a broad range of clients across key sectors.
Vision: The law firm of choice delivering world-class value
Values: Resourcefulness, Integrity, Productivity, Innovation and Client satisfaction
 WHAT TO EXPECT
We will continue to commit to the high standards of integrity and professionalism with which we have conducted business over the years.
Over the next few months, expect to see a lot more of our brand expressions. As you notice changes in our brand elements, we would certainly love to further deepen our connection with you. Please visit our social media pages (LinkedIn: pac-solicitors and twitter: pac­_solicitors ) and feel free to reach out with any thoughts, comments, or feedback.
As always, we look forward to your continued support and custom.

Thank you